Minecraft 18+ Mature Group - Vervain's Arcadia Network
Welcome to Vervain's Arcadia, a mature, social and friendly group who love Minecraft!
Searching for a friendly, relaxed and adult group who enjoy survival Minecraft? Want an open minded, LGBTQ+ respecting community to be yourself with? Welcome to Vervain's Arcadia! Learn more about who we are and apply to join here!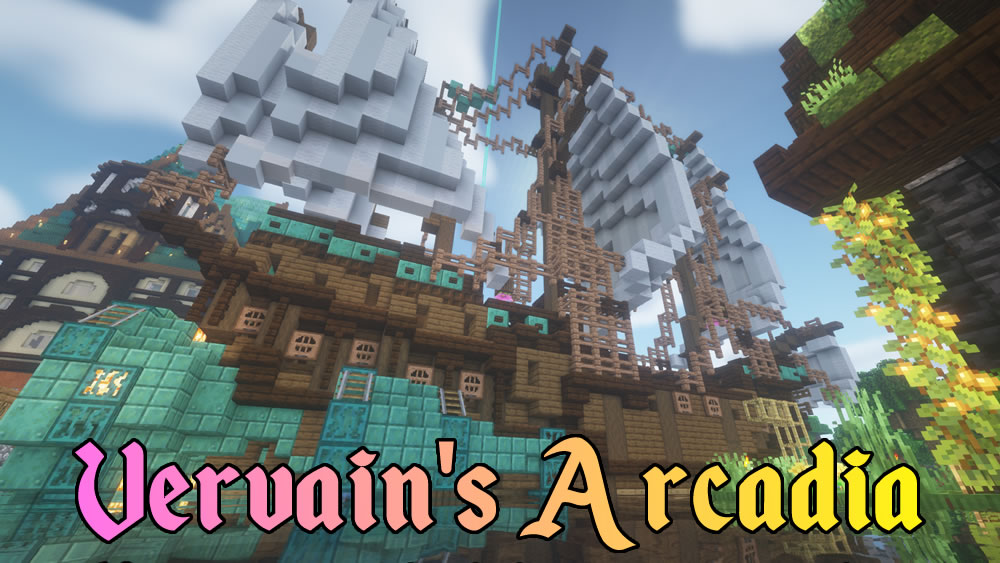 Our Awesome Discord Community
Our members are super friendly and open minded, you'll fit right in with us! We're social, easy going and respectful. Members can be open about who they are, and find others who identify similarly. Regular events and easy access to voice chat keeps us in touch. We run a mini-game event or social night most weeks, and players may get together whenever they like. With a limit on the membership size, our community feels close and intimate. If you enjoy that small server feel and want to make closer friends, we are the perfect place for you!
Arcadia SMP (1.19)
Our original survival server. This HermitCraft style world boasts a huge map that never resets. Being well over a year old, you'll find builds all the way back from the beginnings of 1.16, and with a 50,000 block world border, there's no shortage of space. Visit glorious community districts, Nether roof ice roads and massive super builds! You'll discover shopping districts, huge arenas for PvP and mini-games, and find ice roads linking the huge distances together. Visit several mega bases, who's owners have been building non-stop for over a year!
Arcadia features a small selection of plugins and datapacks to improve quality of life, while remaining very close to full vanilla. Use Head Database and Armor Stand editor to really spice up your builds. The server features player made shopping districts, with diamonds acting as currency. We don't use commands like /tpr, /back etc, but because of the huge distance between each district, there are simple warp signs to move between each season's districts. CoreProtect ensures you'll never have to fear your precious work being harmed. This server hosts Dynmap, allowing explorers and prospective builders alike the chance to search for a perfect area. Proximity voice chat is available on this server!
Technia Fabric Server (1.18.2)
Technia is a brand new server built on Fabric. It's focused on true vanilla gameplay for the die-hard technical or vanilla enthusiast. This server is a little less focused on the SMP play-style, and more on big construction and advanced contraptions. If you're looking to build huge farms or cutting edge devices that require absolute vanilla behaviour, you'll find this server to be a perfect home. With each major release, the map will be reset, meaning you can relive that new-beginnings feeling and start with a clean slate. The only mods in use are to improve the servers performance and have no effect on vanilla mechanics. We also have Syncmatica installed, which allows players to share their Litematica schematics. Proximity voice chat is available.
Mini-games
Our mini-games server slot is also a recent addition, but has quickly gained a lot of interest. It hosts a home to a variety of gamemodes. Ever wanted to enjoy a casual game of Bedwars or Spleef without kids screaming at you? We like to organise regular events here, and many of the maps used are built by our own community. We also have a "development" server, available for anyone who wants to design their own minigame project. Several of our talented members have designed and premiered their games here in the past! Keep an eye on the "Events & Mini-games" channels in our Discord if you're interested.
---
Protecting Our Community
We use a number of methods to protect our community and their work. All servers are whitelisted, meaning nobody is able to access them at all without first being approved by an admin. The community is exceedingly friendly and respectful of one another, and we're proud to state that we've never had a serious griefing incident. CoreProtect is a plugin that logs every block placement and activity, and can undo potential vandalism with a single command. As an adult community, we don't moderate our chat, but any form of harassment or abuse will not be tolerated.
Community Rules & Code of Conduct
This group is open to people of any nationality, religion, sexual orientation and gender. Members are expected to be open minded towards others and respectful at all times. Many of our members are here to enjoy the safe, mature environment that is so rare on most Minecraft multiplayer communities. We have a zero tolerance policy on any form of discrimination. If you aren't able to accept this, please hit the back button immediately.
As a chilled out group, we avoid anything that stresses or causes offence to other players. The community is home to a variety of different people who may identify or have different beliefs to yourself. It is important that we respect one another at all times to maintain a comfortable, fun experience. Rules on this network are as follows...
You must be 18 or over and a mature individual (Strictly 18+ only, no exceptions will be made, so please don't ask)
Griefing of any kind, stealing other players items/claimed land or changing other players builds is not permitted
Abuse of any sort in the game, in chat or on Discord is not permitted
Any kind of hacking, including the use of hacked clients, x-raying and things not possible in the vanilla client are forbidden.
Duplicating of any sort is strictly forbidden (TNT duping for farms and digging is the only exception)
No advertising of products, services or other servers to any other player (streamers may share their links when streaming on the server)
Degrading the experience of other players is forbidden (this includes lag machines, DoS attacks and similar)
We have a strict zero tolerance policy on the above. Players caught breaking any of these rules will be permanently removed. All members deserve a fair and enjoyable experience while playing, and as an adult community, it is expected that everyone understands right from wrong.
Unlike large commercial servers, this isn't run for profit. The ultimate motivation for this network is to create a fun and friendly community where new friendships are made and everyone can enjoy Minecraft without fear of grief or immaturity. We don't sell loot boxes or crate keys here, and we stand strongly against pay2win behaviours. We keep the membership size moderately small to maintain a closer group. Our members are very active, social and get along well. We're looking for new members who enjoy playing alongside others, are friendly and enjoy socialising in-game and over Discord. Our players are very welcoming and love to make new friends.
---
BEFORE APPLYING! Please make sure you've:
Read this page carefully, understand the rules fully and are aged 18+.
Got a licensed Minecraft Java Edition account (Bedrock Edition will not work, nor will "cracked" profiles).
Have a Discord account, with your profile set to ACCEPT friend requests from anyone. Seriously please check it, so many applicants have this switched off and we're unable to contact them.
We are accepting new players on to the network! Like what you've read here? Click the button below to apply. You'll be taken to a simple form that can be filled out in just a couple of minutes. Try to tell us about you and what you love doing in Minecraft, it helps to know who is wishing to join us. Please be patient in waiting for a response, particularly if you're applying during the night. We try our best to make contact within 24 hours for successful submissions.